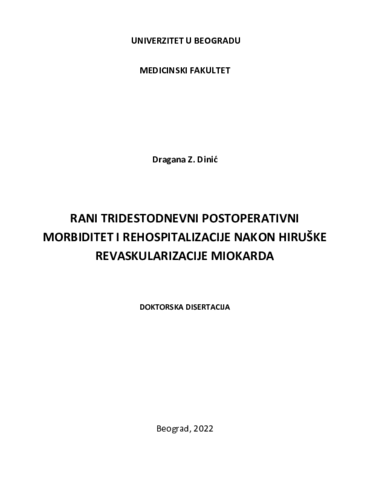 Title (srp)
Rani tridestodnevni postoperativni morbiditet i rehospitalizacije nakon hirurške revaskularizacije miokarda
Contributor
Deljanin-Ilić, Marina, 1957-


Otašević, Petar, 1969-


Perić, Miodrag, 1956-


Beleslin, Branko, 1964-

Description (eng)
Objectives: The present study aimed to identify significant causes of readmission within 30 daysfollowing coronary artery bypass graft (CABG) surgery, as well as main postoperative complications,and to compare readmission incidence related to surgical site infections (SSIs) before and afterimplementing international recommendations for antibiotic prophylaxis.Methods: We analyzed 2,225 CABG patients who received either guideline-directed antibioticprophylaxis (GDAP = 568) or institutional antibiotic prophylaxis (non-GDAP = 1,657) between January2017 and December 2019. The primary outcome was a composite of sternal wound infection (SWI) orharvest SWI. Secondary outcomes consisted of the individual components of composite end point, theincidence of in-hospital SSIs, and prolonged postoperative length of hospital stay (LOS) (>7 days).Propensity matching was used to select pairs for final comparison.Results: Before implementing GDAP, the most frequent reason for readmission were SSIs, causing58.2% of all readmissions within 30 days, along with non-surgical infections and atrial fibrillation, whichwere et the same time main causes for prolonged index hospitalization. Of 429 matched pairs, 48 patientsin the GDAP group and 67 patients in the non-GDAP group were readmitted to a hospital within 30 daysfor any cause (11.2 vs. 15.6%, p = 0.048). We found a decreased readmission incidence for reasonsrelated to SSIs, although these differences did not reach statistical significance (7.4 vs. 10.0%, p = 0.069).Adherence to GDAP was associated with reduced in-hospital risks of SSIs and prolonged postoperativeLOS (19.6 vs. 26.6%, p = 0.015).Conclusions: In this contemporary clinical practice study, the adherence to GDAP was an insufficientmeasure to decrease rehospitalization due to SSIs. The present findings warrant further investigation onfactors that may contribute to SSIs development after hospital discharge.
Description (srp)
Cilj: Cilj ovog istraživanja je bio da se identifikuju značajni razlozi ranih rehospitalizacija u 30 dananakon hiruške revaskularizacije miokarda (HRM), kao i glavne postoperativne komplikacije i da seuporede stope ranih rehospitalizacija uzrokovanih hiruškim infekcijama (HI) pre i nakon implementacijeinternacionalnih preporuka za hirušku antibiotsku profilaksu.Metod: Analizirali smo 2,225 bolesnika kojima je urađena HRM u period između Januara 2017. iDecembra 2019. god., koji su imali smernicama vođenu antibiotsku profilaksu (SVAP = 568) iliinstitucionalnu antibiotsku profilaksu (ne-SVAP = 1,657). Primarni događaj je bio kompozit od događajainfekcije sternalne rane i rane mesta uzimanja graftova. Sekundarni događaji su bili pojedinačnekomponente primarnog kompozitnog događaja, stopa HI u indexnoj hospitalizaciji i produžena indexnahospitalizacija (PIH) > 7 dana. Primenjeno je uparivanje bolesnika po sličnosti (Propensity ScoreMatching) za finalno upoređivanje i analizu.Rezultati: Pre iplementacije SVAP, najčešći razlog ranih rehospitalizacije su bile HI, izazivajući 58.2%svih rehospitalizacija u 30 dana nakon HRM, zajedno sa nehiruškim infekcijama i atrijalnom fibrilacijom,koje su ujedno bile i glavni razlozi produžene indexne hospitalizacije. Od 429 uparenih bolesnika, 48bolesnika iz SVAP grupe i 67 bolesnika iz ne-SVAP grupe su bili rehospitalizovani u 30 dana nakonHRM zbog bilo kog razloga (11.2 vs. 15.6%, p = 0.048). U SVAP grupi je utvrđeno smanjnje stoperehospitalizacija zbog HI, ali razlika nije dostigla statističku značajnost (7.4 vs. 10.0%, p = 0.069).Adherenca prema SVAP je bila povezana sa smanjenjem rizika od HI tokom indexne hospitalizacije iPIH (19.6 vs. 26.6%, p = 0.015).Zaključak: U ovom istraživanju savremene kliničke prakse, samo adherence prema SVAP nije biladovoljna mera za smanjnje ranih rehospitalizacija zbog HI. Prezentovani rezultati ukazuju da je ubudućnosti neophodno istražiti dodatne faktore koji doprinose nastanku HI nakon završetka indexnehospitalizacije.
Description (srp)
Medicina - Istraživanja u kardiovaskularnoj medicine / Medicine - Research in cardiovascular medicine Datum odbrane: 15.06.2022.
Rights


This work is licensed under a
CC BY-NC-ND 3.0 AT - Creative Commons Attribution-NonCommercial-NoDerivs 3.0 Austria License.

http://creativecommons.org/licenses/by-nc-nd/3.0/at/legalcode


Subject
OSNO - Opšta sistematizacija naučnih oblasti, Kardiologija

Hiruška revaskularizacija miokarda ● Preporuke ● Medicina zasnovana na dokazima ● Rehospitalizacije ● Hiruške infekcije ● Postoperativne komplikacije

616.127-089(043.3)

OSNO - Opšta sistematizacija naučnih oblasti, Kardiologija

Coronary artery bypass surgery ● Guidelines ● Evidence-based medicine ● Readmissions ● Surgical site infections ● Postoperative complications