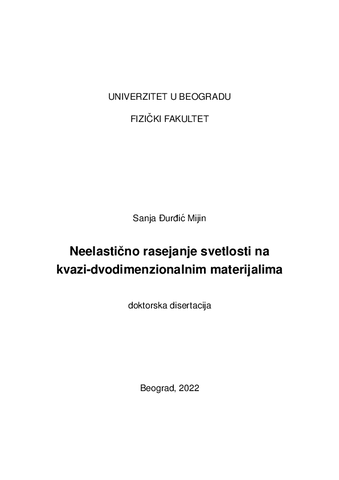 Title (srp)
Neelastično rasejanje svetlosti na kvazi-dvodimenzionalnim materijalima : doktorska disertacija
Description (srp)
U okviru ove doktorske disertacije predstavljeni su rezultati ispitivanja dinamikerešetke kvazi-dvodimenzionalnih materijala metodom Ramanove spektroskopije. Ovaspektroskopska tehnika uspešno se koristi za ispitivanje kristalne strukture, mehaničkihi termalnih karakteristika materijala, faznih prelaza, elektronske strukture sistema, tesamim tim može da pruži najrazličitiji skup informacija o fundamentalnim svojstvimakvazi-dvodimenzionalnih materijala...
Description (srp)
Fizika - Fizika kondenzovanog stanja materije / Physics - Condensed Matter Physics Datum odbrane: 20.03.2022.
Description (eng)
The results of a Raman scattering study of Quasi-two-dimensional materials are presentedas part of this doctoral dissertation. Considering that Raman Spectroscopy hasbeen succesfully used to obtain information regarding crystal and electronic structure,mechanical and termal properties of the material in question, and to probe phase transitions,it is an experimental technique that provides a wide spectrum of information onfundamental properties of Quasi-two-dimensional materials...
Rights
© All rights reserved


Subject
OSNO - Opšta sistematizacija naučnih oblasti, Površinska fizika. Fizika materijala. Tanki slojevi

Ramanova spektroskopija, kvazi-dvodimenzionalni materijali, van der Valsovi materijali

OSNO - Opšta sistematizacija naučnih oblasti, Površinska fizika. Fizika materijala. Tanki slojevi

Raman Spectroscopy, Quasi-two-dimensional Materials, van der Waals Materials