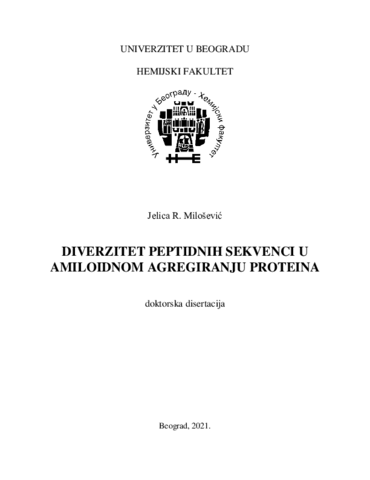 Title (srp)
Diverzitet peptidnih sekvenci u amiloidnom agregiranju proteina : doktorska disertacija
Description (srp)
Kako proteinski biomakromolekuli imaju složenu, ali metastabilnu trodimenzionalnu strukturu, podložni su agregiranju pri različitim promenama uslova okoline. Agregati se odlikuju različitim stepenom uređenosti, od potpuno amorfnih do visoko uređenih amiloidnih fibrila...
Description (srp)
Biohemija - Strukturna biohemija Datum odbrane: 09.07.2021.
Description (eng)
Biological macromolecules have complex, but metastable 3D structures. Upon conformational changes in different conditions, they are prone to aggregation. Protein aggregates have various organizations, from completely unordered to highly ordered amyloid fibrils...
Rights


This work is licensed under a
CC BY-NC-ND 3.0 AT - Creative Commons Attribution-NonCommercial-NoDerivs 3.0 Austria License.

http://creativecommons.org/licenses/by-nc-nd/3.0/at/legalcode


Subject
OSNO - Opšta sistematizacija naučnih oblasti, Organska hemija

OSNO - Opšta sistematizacija naučnih oblasti, Biohemija

amiloidni fibrili, oligomeri, agregaciona β-pločica, FTIR spektroskopija, agregiranje, polipeptidi, proteinske sekvence, heterogene smeše proteina, izoforme ficina

OSNO - Opšta sistematizacija naučnih oblasti, Organska hemija

OSNO - Opšta sistematizacija naučnih oblasti, Biohemija

amyloid fibrils, oligomers, aggregation β-sheet, FTIR spectroscopy, aggregation, polypeptides, protein sequences, heterogeneous protein mixture, ficin isoforms