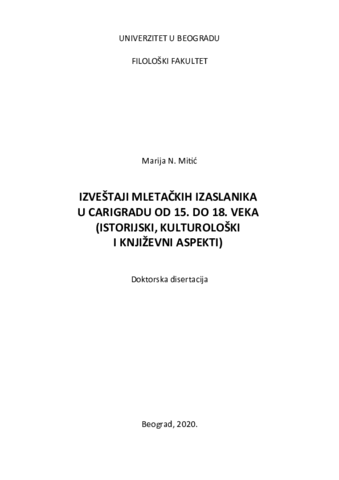 Title (srp)
Izveštaji mletačkih izaslanika u Carigradu od 15. do 18. veka (istorijski, kulturološki i književni aspekti) : doktorska disertacija
Author
Mitić, Marija N., 1988-, 77929737

Contributor
Đurić, Željko, 1952-, 12367463
Aykut, Ksenija, 1960-, 15446375
Pekić, Radmilo, 1969-, 7603303

Description (srp)
Tema diplomatskih odnosa između Mletačke republike i Osmanskog carstva oduvek je privlačila mnoge savremene istoričare, posebno krajem 19. i početkom 20. veka. Evropljani su doživljavali Osmanlije kao narod koji se razlikovao po kulturi, tradiciji i načinu života, a takođe, prema većini orijentalista, smatrali su da su osmanske političke, društvene i kulturne norme bile u potpunosti različite od evropskih. Međutim, uprkos razlikama, moramo govoriti i o sličnostima između ove dve tradicije. Nakon pada Carigrada, 1453. godine, kada ga je sultan Mehmed Osvajač osvojio, ovaj grad postaje spona između Evrope i Azije, te u 15. veku diplomatske i trgovinske veze između Mletačke republike i Osmanskog carstva postaju sve učestalije, zbog čega su Mlečani slali svoje predstavnike u prestonicu Osmanskog carstva. Uloga mletačkog izaslanika, koji se nazivao bailo, postaje sve značajnija u 16. i 17. veku, a i kasnije u 18. veku kada 1797. godine dolazi do pada Mletačke republike. Iz izveštaja mletačkih izaslanika u Carigradu saznajemo o uzajamnim diplomatskim, kulturnim i književnim vezama između Mlečana i Osmanlija. Izveštaji mletačkih izaslanika pisani u formi zvaničnih pisama (it. dispacci e relazioni), nezvaničnih pisama (it. lettere familiari) i putopisa (it. diari e relazioni dei viaggi) predstavljaju veoma plodnu građu ne samo kada je reč o proučavanju političkih i ekonomskih prilika već su isto tako značajni izvori u proučavanju književno-istorijskih i kulturnoistorijskih veza. Iz tog razloga oni nisu samo istorijski izvori već i književno-istorijski. Bilo da je reč o epistolama ili o putopisima, odlike pomenutih izveštaja su se menjale kroz epohe počev od poznog srednjeg veka preko humanizma i renesanse do baroka i prosvetiteljstva.
Description (srp)
Književnost, kultura - Italijanistika, komparatistika / Literature, Culture - Italianistic, Comparatistics Datum odbrane: 25.01.2021.
Description (eng)
The topic of diplomatic relations between the Venetian Republic and the Ottoman Empire has always attracted many contemporary historians, especially in the late 19th and early 20th centuries. The Europeans perceived the Ottomans as a people that differed in culture, tradition and way of life, and also, according to most Orientalists, considered that Ottoman political, social and cultural norms were completely different from European ones. However, despite the differences, we must also talk about the similarities between the two traditions. After the fall of Costantinople, in 1453, when Sultan Mehmed the Conqueror conquered it, this city became a link between Europe and Asia, and in the 15th century diplomatic and trade ties between the Venetian Republic and the Ottoman Empire became more frequent, which is why the Venetians sent their representatives to the capital of the Ottoman Empire. The role of the Venetian envoy, called bailo, became increasingly important in the 16th and 17th centuries, and later in the 18th century when the fall of the Venetian Republic came in 1797. From the reports of the Venetian emissaries in Costantinople, we learn about the mutual diplomatic, cultural and literary links between the Venetians and the Ottomans. The reports of Venetian envoys written in the form of official letters (dispacci e relazioni), unofficial letters (lettere familiari) and travelogues (diari e relazioni dei viaggi) are very fruitful material not only when it comes to studying political and economic opportunities but are also significant sources in the study of literary-historical and cultural-historical connections. From that reason, they are not only historical sources but also literary-historical ones. Whether epistols or travelogues, the characteristics of these reports have varied through epochs from the late Middle Ages through Humanism and the Renaissance to the Baroque and the Enlightenment.
Rights


This work is licensed under a
CC BY-NC-ND 2.0 AT - Creative Commons Attribution - Non-Commercial - No Derivative Works 2.0 Austria License.

http://creativecommons.org/licenses/by-nc-nd/2.0/at/legalcode


Subject
OSNO - Opšta sistematizacija naučnih oblasti, Italijanska književnost (uključujući studije)

OSNO - Opšta sistematizacija naučnih oblasti, Kulturna istorija Evrope

Venetians, Ottomans, Costantinople, bailo, reports, epistols, travelogues, Literature, Culture

OSNO - Opšta sistematizacija naučnih oblasti, Italijanska književnost (uključujući studije)

OSNO - Opšta sistematizacija naučnih oblasti, Kulturna istorija Evrope

Mlečani, Osmanlije, Carigrad, bailo, izveštaji, epistole, putopisi, književnost, kultura