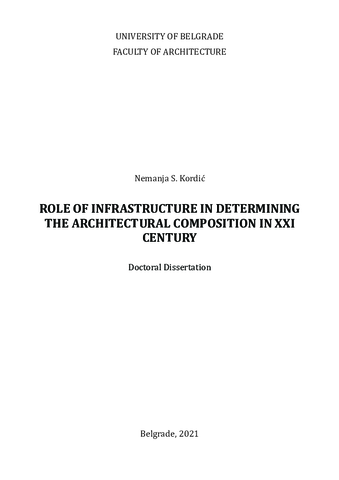 Title (eng)
Role of infrastructure in determining the architectural composition in XXI century : doctoral dissertation
Author
Kordić, Nemanja, 1984-, 70984457

Contributor
Nikezić, Ana, 1973-, 6989671
Bettum, Johan, 1962-, 77933833
Stojanović, Đorđe, 1974-, 37711975
Ignjatović, Dušan, 1969-, 22418791

Description (srp)
Today, within the neo-liberal market of the 21st century, architecture became a tool of capital, demanding minimal investments with maximum spatial and environmental performances. Permanent social and economic changes that follow the rapid development of an information-based society imply a new take on the architectural composition, which became increasingly programmatically unstable and market-driven, especially within the mixed-use city centers. A need for programmatic flexibility and the possibility of transformations are driven by the necessity to answer the ever-increasing need for efficiency at all spatial levels from urban to building. As the infrastructure of a building considers all technological components that support the operation of its program, programmatic transformations should also be based on infrastructural tenets...
Description (srp)
Данас, у оквирима неолибералног тржишта 21. века, архитектура је постала инструмент капитала, захтевајући минималне инвестиције, а максималне просторне и енвајронменталне перформансе. Константне друштвено-економске промене које прате брзи развој информационог друштва иницирају нови приступ поимању архитектонског склопа, који вођен тржиштем постаје програмски нестабилана категорија - нарочито у зонама градских центара. Потреба за програмском флексибилношћу и могућности трансформације вођена је неопходношћу да се одговори на растуће захтеве за ефикасношћу на свим просторним нивоима: од урбаног - до нивоа самог објекта. Како инфраструктура архитектонског објекта подразумева све технолошке компоненте које подржавају његов програм, следи да ће и могуће програмске трансформације бити засноване на инфраструктурним принципима...
Description (srp)
Architecture and Urbanism - Architectural design and contemporary architecture / Архитектура и Урбанизам - Архитектонско пројектовање и савремена архитектура Datum odbrane: 12.07.2021.
Rights


This work is licensed under a
CC BY-NC 2.0 AT - Creative Commons Attribution - Non-Commercial 2.0 Austria License.

http://creativecommons.org/licenses/by-nc/2.0/at/legalcode


Subject
OSNO - Opšta sistematizacija naučnih oblasti, Arhitektonske konstrukcije

infrastructure, infrastructural tenet, architectural composition, spatial efficiency, transformation, infrastructural ground, functional neutrality, process-based architecture, urban automation, real estate

OSNO - Opšta sistematizacija naučnih oblasti, Arhitektonske konstrukcije

инфраструктура, инфраструктурни принципи, архитектонски склоп, просторна ефикасност, програмска трансформација, инфраструктурно тло, функционална неутралност, процесна архитектура, урбана аутоматизација, некретнине