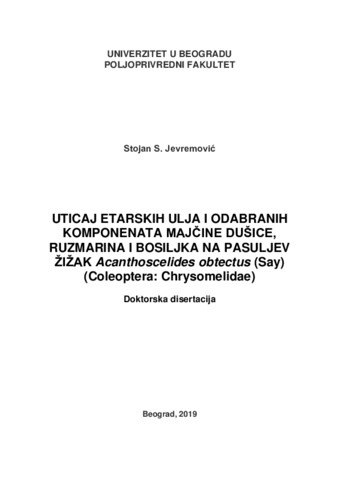 Title (srp)
Uticaj etarskih ulja i odabranih komponenata majčine dušice, ruzmarina i bosiljka na pasuljev žižak Acanthoscelides obtectus (Say) (Coleoptera: Chrysomelidae) : doktorska disertacija
Author
. Jevremović, Stojan, 1988-, 54694921

Contributor
Radonjić, Anđa, 1976-, 12917607
Kostić, Igor, 1982-, 31709031
Petrović-Obradović, Olivera, 1963-, 12636519
Lazarević, Jelica, 1962-, 13809511
Krnjajić, Slobodan, 1961-, 4897895

Description (srp)
U radu je ispitano delovanje rastvora etarskih ulja majčine dušice, ruzmarina i bosiljka i njihovih odabranih komponenata timola, α-pinena, 1,8-cineola i linalola na odrasle jedinke pasuljevog žiška (Acanthoscelides obtectus Say)...
Description (srp)
Biotehničke nauke - Entomologija / Biotechnical sciences - Entomology Datum odbrane: 27.02.2020.
Description (eng)
In this research the effect of solutions of thyme, rosemary and basil essential oils and their selected constituents thymol, α-pinene, 1,8-cineole and linalool was tested against the bean weevil adults (Acanthoscelides obtectus Say)...
Rights


This work is licensed under a
CC BY-NC-ND 2.0 AT - Creative Commons Attribution - Non-Commercial - No Derivative Works 2.0 Austria License.

http://creativecommons.org/licenses/by-nc-nd/2.0/at/legalcode


Subject
OSNO - Opšta sistematizacija naučnih oblasti, Invertebrata. Beskičmenjaci

bean weevil, essential oils, thyme, rosemary, basil, essential oil constituents, residual contact toxicity, protective effect, antioviposition effect, sublethal and lethal concentrations

OSNO - Opšta sistematizacija naučnih oblasti, Invertebrata. Beskičmenjaci

pasuljev žižak, etarska ulja, majčina dušica, ruzmarin, bosiljak, komponente etarskih ulja, rezidualno kontaktna toksičnost, protektivni uticaj, antiovipozicioni efekat, subletalne i letalne koncentracije