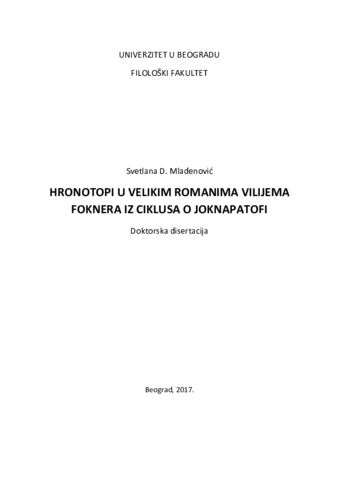 Title (srp)
Hronotopi u velikim romanima Vilijema Foknera iz ciklusa o Joknapatofi : doktorska disertacija
Author
Mladenović, Svetlana D., 1976-

Contributor
Vukčević, Radojka, 1952-
Dojčinović, Biljana, 1963-
Lopičić, Vesna, 1959-

Description (srp)
U ovom radu Bahtinova teorija hronotopa primenjuje se u analizi četiri romana Vilijema Foknera iz takozvanog "Velikog perioda" ovog pisca – na Buku i bes, Avesalome, Avesalome!, Svetlost u avgustu i Dok ležah na samrti – u nameri da se da doprinos jednom relativno novom, ali perspektivnom pravcu u foknerovskim studijama, ali i da se on čvršće teorijski zasnuje. Budući da koreni intelektualne srodnosti Foknera i Bahtina sežu do Bergsona, u prvom delu Uvoda daje se pregled bergsonističkog pristupa Foknerovom vremenu. Taj pristup ima teorijsko utemeljenje u uticaju bergsonovske intuiМije na modernističku književnu estetiku, tako da Uvod uključuje i prikaz Bergsonovog pojma trajanja i intuicije. U zaključku se rezimiraju prednosti i mane bergsonističkog pristupa Foknerovom vremenu, uz sugestiju da bi neke od poteškoća mogle biti prevaziđene primenom Bahtinovog hronotopa...
Description (srp)
Nauka i književnosti - Američka književnost / Literature - American Literature Datum odbrane: 29.09.2017.
Description (eng)
In this doctoral thesis Bakhtin's theory of literary chronotope is applied to the analysis of four novels of William Faulkner from the so-called "major phase" of his writing – The Sound and the Fury, Absalom, Absalom!, Light in August and As I Lay Dying – with the aim to contribute to a relatively new but promising approach in Faulkner studies and to provide a stronger theoretical foundation for this approach. Given that the roots of intellectual affinities between Faulkner and Bakhtin can be traced back to Bergson, the first part of the Introduction gives an overview of the Bergsonian approach to Faulkner's time. This approach has a theoretical grounding in the influence of Bergsonian intuition on modernist aesthetics, so the Introduction also gives an account of Bergson's notions of duration and intuition. The concluding remarks summarize the advantages and weaknesses of the Bergsonian approach to Faulkner's time, suggesting that some of the difficulties could be overcome by means of Bakhtin's chronotope...
Rights


This work is licensed under a
CC BY-NC-ND 2.0 AT - Creative Commons Attribution - Non-Commercial - No Derivative Works 2.0 Austria License.

http://creativecommons.org/licenses/by-nc-nd/2.0/at/legalcode


Subject
OSNO - Opšta sistematizacija naučnih oblasti, Američka književnost (studije)

OSNO - Opšta sistematizacija naučnih oblasti, Teorija književnosti

OSNO - Opšta sistematizacija naučnih oblasti, Ostala pitanja

Faulkner, Bakhtin, Bergson, time, space, chronotope, literary form, artistic-ideologicalmeaning, The Sound and the Fury, Absalom, Absalom!, Light in August, As ILay Dying

OSNO - Opšta sistematizacija naučnih oblasti, Američka književnost (studije)

OSNO - Opšta sistematizacija naučnih oblasti, Teorija književnosti

OSNO - Opšta sistematizacija naučnih oblasti, Ostala pitanja

Fokner, Bahtin, Bergson, vreme, prostor, hronotop, književna forma,umetničko-ideološki smisao, Buka i bes, Avesalome, Avesalome!, Svetlost u avgustu,Dok ležah na samrti