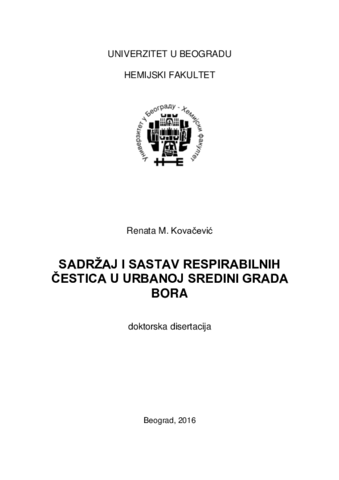 Title (srp)
Sadržaj i sastav respirabilnih čestica u urbanoj sredini grada Bora: doktorska disertacija
Author
Kovačević, Renata M., 1970-

Contributor
Manojlović, Dragan, 1961-
Jovašević Stojanović, Milena
Roglić, Goran, 1964-

Description (srp)
U radu je analizirano ukupno 416 uzoraka frakcija respirabilnih čestica (PM10 i PM2.5), sakupljenih tokom 2009. i 2010. godine sa lokaliteta obdaništa "Boško Buha" u Boru koje se nalazi u neposrednoj blizini industrijskog kompleksa za proizvodnju bakra, Rudarsko-topioničarskog basena Bor. Uzorkivači su postavljeni i unutar obdaništa, i spolja, radi prikupljanja podataka o kvalitetu kako vazduha u spoljašnjoj sredini tako i unutrašnjem prostoru, radi analiziranja uticaja zagađenja iz spoljašnje sredine kao i detektovanja eventualno prisutnih izvora zagađenja u unutrašnjm prostoru...
Description (srp)
Hemija / Chemistry Datum odbrane: 27.09.2016
Description (eng)
In this study, the total of 416 samples of respirable particles (PM10 and PM2.5) collected during 2009 and 2010 from the kindergarten Bosko Buha in Bor, located in the vicinity of Copper Smelter Complex RTB, were analyzed. Samplers were placed indoor and outdoor in order to collect the data about air quality, both indoor and outdoor, to analyzed the influence of ambient air to the indoor pollution and to detect a possible sources of indoor pollution...
Rights


This work is licensed under a
CC BY-NC-ND 2.0 AT - Creative Commons Attribution - Non-Commercial - No Derivative Works 2.0 Austria License.

CC BY-NC-ND 2.0 AT

http://creativecommons.org/licenses/by-nc-nd/2.0/at/


Subject
air pollution, respirable particles, copper smelter, arsenic, positive matrixfactorization

OSNO - Opšta sistematizacija nau?nih oblasti -- Hemija (25) -- Analiti?ka hemija (2505) -- Hemijske metode analize (250501)

OSNO - Opšta sistematizacija nau?nih oblasti -- Ekološke nauke. Zaštita prirodnih resursa (21) -- Aerozaga?enje (2113)