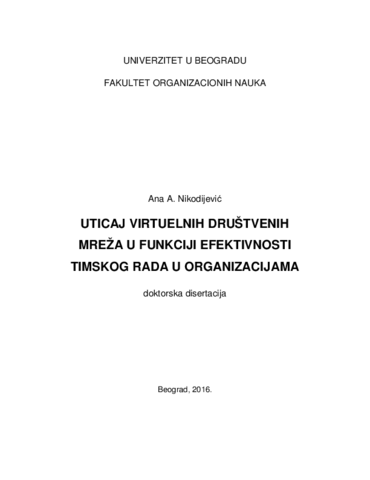 Title (srp)
Uticaj virtuelnih društvenih mreža u funkciji efektivnosti timskog rada u organizacijama
Author
Nikodijević, Ana A. 1979-

Contributor
Mihailović, Dobrivoje, 1959-
Radenković, Božidar, 1958-
Čabarkapa, Milanko, 1953-

Description (eng)
Development and introduction of teamwork and social virtual networks transforms modern society. They have a growing influence and role on all life areas of individuals, business and society as a whole. Huge challenge for organizations is introduction of teamwork in everyday business activities and coping with reality of prevalence of virtual social networking. Considering their importance, I conducted a research regarding the usage of teamwork and Facebook, as well as possibilities of its implementation in teamwork with the objective of increasing teamwork effectiveness. Qualitative research was conducted by analyzing relevant literature, while empirical research had a sample of 604 employees in Republic of Serbia using interviewing technique (Computer Assisted Interviewing). Results show that virtual social networks influence teamwork effectiveness, that it is possible to design the corporative model of virtual teams, and that this topic was not enough analyzed in scientific literature. Research results provide enough data on current state of this scientific field in Serbia and they will serve as a good base for future scientific and business development.
Description (srp)
Razvoj i upotreba timskog rada i virtuelnih društvenih mreža transformiše savremeno društvo. Oni imaju sve veći uticaj i ulogu u svim sferama života pojedinaca, poslovanja i društva u celini. Ogroman izazov za organizacije je uvođenje timskog rada u svakodnevnicu poslovanja, i suočavanje sa širokom rasprostranjenošću virtuelnih društvenih mreža. Uvidevši njihov značaj, sprovela sam istraživanje o korišćenju timskog rada i Facebook-a, kao i mogućnostima njegove primene u radu tima u cilju povećanja efektivnosti timskog rada. Kvalitativno istraživanje je sprovedeno analizom relevantne literature, dok je empirijsko istraživanje sprovedeno na uzorku od 604 zaposlenih ispitanika u Republici Srbiji tehnikom anketiranja (Computer Assisted Interviewing). Rezultati pokazuju da virtuelne društvene mreže imaju uticaj na efektivnost timskog rada, da je moguće definisati model korporativnog virtuelnog tima, kao i da je ova tema do sada nedovoljno istražena u naučnoj literaturi. Rezultati istraživanja pružaju dovoljno podataka o trenutnom stanju ove naučne oblasti u Srbiji i poslužiće kao dobra osnova daljeg naučnog i poslovnog razvoja.
Description (srp)
Organizacione nauke / Menadžment ljudskih resursa Organizational sciences / Human resources management Datum odbrane: 28.09.2016.
Rights


This work is licensed under a
CC BY-NC 2.0 AT - Creative Commons Attribution - Non-Commercial 2.0 Austria License.

http://creativecommons.org/licenses/by-nc/2.0/at/legalcode


Subject
OSNO - Opšta sistematizacija naučnih oblasti, Menadžersko delovanje

teamwork effectiveness, social virtual networking, Facebook, implementation of Facebook in business, corporative virtual team model

OSNO - Opšta sistematizacija naučnih oblasti, Menadžersko delovanje

efektivnost timskog rada, virtuelne društvene mreže, Facebook, primena Facebook-a u poslovanju, model korporativnog virtuelnog tima