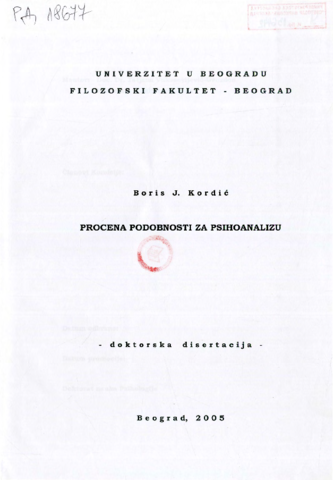 Title (srp)
Procena podobnosti za psihoanalizu : Doktorska disertacija
Contributor
Vukosavljević-Gvozden, Tatjana
Knežević, Goran
Trebješanin, Žarko

Description (eng)
Exploration of Suitability for psychoanalysis was conducted with aim to find quality and intensity of correlation between Assessment and Self-assessment of Suitability and Disintegration of regulative functions (psychoticism) as a clinically relevant dimension of personality (measured by Delta-9). Suitability (in broader sense) is defined as a potential state (suitability in narrower sense) present in analysand/patient which is activated under the psychoanalytic situation (analyzability) and is good for optimal development of analytical process under the influence of analysand as well as analyst and gradually lead to building a self-analytic function. As indicators of Analyzability we choose Working alliance, Free associations, Insight, Transference and Contratransference, and formed questioner APA (Analyst Assessment of Analyzability). Analysands/patients were given inventory SPP (Self-assessment of Suitability) which was psychometrically formed on a sample of students, and has the following scales: Integrity, Introspectivity, Trust, and Quality of object relations. A positive correlation of measures of Assessment and Self-assessment was confirmed, as well as negative correlation between measures of Suitability and Disintegration of regulative functions. Measures of Suitability are clearly defined in space of basic personality traits, and are supplemented by measures from scales of Absorption and Affective flatness (negatively expressed). There is a regularity that with a high Suitability go low values on scales of Delta-9, and that in cases of moderate suitability with high Introspectivity there is a tendency that alone with fall of Integrity raise the value of Absorption and lower the value of Affective flatness. It is possible to distinguish four clusters according to Suitability. With high Suitability the measures of Assessment and Self-assessment are aligned, and with moderate to low Suitability those measures take opposite values confirming the advantage of interactive approach.
Description (srp)
Sprovedeno je istraživanje podobnosti za psihoanalizu sa ciljem da se ustanovi kvalitet i intenzitet povezanosti između Procene i Samoprocene Podobnosti i Dezintegracije regulativnih funkcija (psihoticizam) kao klinički relevantne dimenzije ličnosti (merene Deltom-9). Podobnost (u širem smislu) je definisana kao potencijalno stanje (podobnost u užem smislu) prisutno kod analizanda/pacijenata koje se aktivira unutar psihoanalitičke situacije (analizabilnost) i pogoduje optimalnom razvoju analitičkog procesa pod uticajem kako analizanda tako i analitičara i vodi postepeno stvaranju samoanalitičke funkcije. Kao indikatori Analizabilnosti izdvojeni su Radni savez, Slobodne asocijacije, Uvid, Transfer i Kontratransfer i formiran je upitnik APA (Analitičareva procena analizabilnosti). Analizandima/pacijentima je dat upitnik SPP (Samoprocena podobnosti) koji je psihometrijski formiran na uzorku studenata, a sadržava sledeće skale: Integrisanost, Introspektivnost, Poverenje, Kvalitet objektnih odnosa. Utvrđena je pozitivna povezanost između mera Procene i Samoprocene Podobnosti, kao i negativna povezanost između mera Podobnosti i mera Dezintegracije regulativnih funkcija. Mere Podobnosti se jasno izdvajaju u prostoru bazičnih crta ličnosti, a dopunjuju ih mere na skalama Apsorpcije i Afektivne zaravnjenosti (negativno izražene). Postoji pravilnost da uz izrazitu Podobnost idu slabe vrednosti na skalama Delte-9, kao i da kod umerene podobnosti sa izraženom Introspektivnošću postoji tendencija da sa padom Integrisanosti rastu vrednosti na Apsorpciji a padaju na Afektivnoj zaravnjenosti. Moguće je izdvojiti četiri skupine prema Podobnosti. Kod visoke Podobnosti usklađene su mere Procene i Samoprocene a kod niske Podobnosti date mere uzimaju suprotne vrednosti potvrđujući prednost interaktivnog pristupa.
Description (srp)
Psihoanaliza - podobnost za psihoterapiju / Psychoanalysis - suitability for psychotherapy Datum odbrane: 20.01.2006.
Rights


This work is licensed under a
CC BY-NC-ND 2.0 AT - Creative Commons Attribution - Non-Commercial - No Derivative Works 2.0 Austria License.

http://creativecommons.org/licenses/by-nc-nd/2.0/at/legalcode