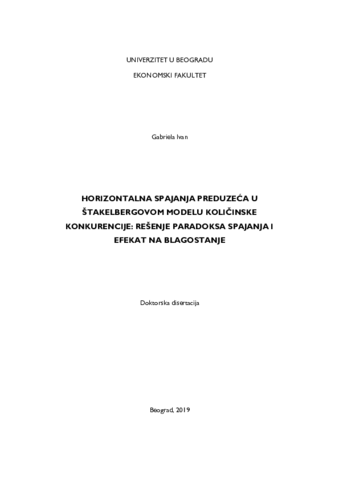 Title (srp)
Horizontalna spajanja preduzeća u Štakelbergovom modelu količinske konkurencije: rešenje paradoksa spajanja i efekat na blagostanje
Author
Ivan, Gabriela, 1985-

Contributor
Trifunović, Dejan, 1979-
Stojanović, Božo, 1964-
Popović, Zoran Ž., 1966-
Ristić, Bojan, 1983-
Kostić, Milan, 1978-

Description (eng)
The main goal of this dissertation is to examine the motivation and effects of mergers on market power and social welfare in the Stackelberg model and to study alternative models that partially or completely solve the merger paradox. Given the lack of coherence between theoretical and empirical results in this field, we will try to fill this gap. We will show that the assumption of sequential game itself plays an important role in solving the merger paradox. The merger paradox is based on very restrictive assumptions that often do not correspond to the reality in markets. One of them is that all market participants have identical marginal costs. Starting from a model in which companies are not equally efficient, having different marginal costs, we will show that the assumption of asymmetric costs leads to the alleviation of the merger paradox. Relaxing the assumption that the merger does not change the marginal costs of the merging parties, we will investigate possible variations in marginal cost of the newly formed company that enable profitable mergers to be in the interests of consumers and/or the society as a whole. We will show that in the Stackelberg model, the incentive to merge exists even when the newly formed company suffers from efficiency losses. Mergers are one of the key areas of economic regulation. In Serbia, the policy of competition regulation has relatively recently gained significance. Therefore, this dissertation can be important for better understanding the incentives and effects of mergers and it may be usefull to both the merging parties and commissions for the protection of competition.
Description (srp)
Osnovni cilj ove disertacije je da se ispitaju motivi i posledice spajanja na tržišnu moć i društveno blagostanje u Štakelbergovom modelu kako bi se ponudili alternativni modeli koji delimično ili u potpunosti rešavaju paradoks spajanja. S obzirom na nedostatak podudarnosti izmeĎu teorijskih i empirijskih rezultata u okviru ove problematike, nastojaćemo da popunimo ovu prazninu. Pokazaćemo da sama pretpostavka o sekvencijalnoj igri ima značajnu ulogu prilikom rešavanja paradoksa spajanja. Paradoks spajanja se bazira na veoma restriktivnim pretpostavkama koja često ne odgovaraju realnoj tržišnoj situaciji. Jedna od njih je da svi tržišni učesnici imaju identične granične troškove. Polazeći od modela u kome su preduzeća različito troškovno efikasna, pokazaćemo da pretpostavka o asimetričnim troškovima dovodi do ublažavanja paradoksa spajanja. Relaksiranjem pretpostavke da spajanje ne utiče na granične troškove preduzeća koja učestvuju u ovom činu, proučićemo moguće varijacije u graničnim troškovima novoformiranog preduzeća koje omogućavaju da profitabilna spajanja budu u interesu potrošača i/ili celokupnog društva. Pokazaćemo da u Štakelbergovom modelu podsticaj za spajanje postoji čak i kad u novoformiranom preduzeću doĎe do smanjenja efikasnosti. Spajanja preduzeća predstavljaju jednu od ključnih oblasti ekonomike regulacije. U Srbiji je politika zaštite konkurencije relativno skoro dobila na značaju. Stoga, ova disertacija može da bude značajna za bolje razumevanje motiva i posledica spajanja preduzeća, i da bude od koristi kako učesnicima spajanja, tako i komisijama za zaštitu konkurencije.
Description (srp)
Društvene nauke / Organizacione promene Social sciences / organizational changements Datum odbrane: 22.10.2019.
Rights


This work is licensed under a
CC BY-NC 3.0 AT - Creative Commons Attribution-NonCommercial 3.0 Austria License.

http://creativecommons.org/licenses/by-nc/3.0/at/legalcode


Subject
Stackelberg model, horizontal mergers, merger paradox, welfare, consumer surplus, concentration, cost asymmetry, cost savings from horizontal mergers.