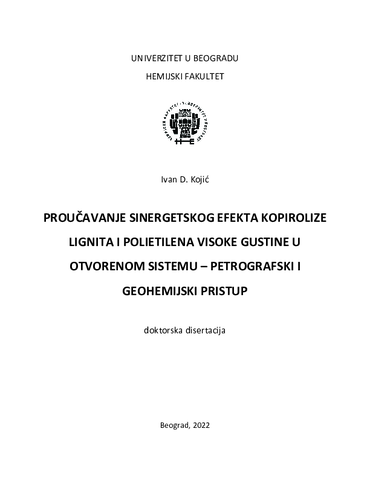 Title (srp)
Proučavanje sinergetskog efekta kopirolize lignita i polietilena visoke gustine u otvorenom sistemu - petrografski i geohemijski pristup : doktorska disertacija
Author
Kojić, Ivan, 1987-

Contributor
Stojanović, Ksenija, 1971-
Jovančićević, Branimir, 1962-
Životić, Dragana, 1964-
Obradović, Marko, 1979-

Description (eng)
In the doctoral dissertation, a detailed examination of pyrolysis of bitumen-free lignite lithotypesamples, high density polyethylene (HDPE) and co-pyrolysis of their mixture in an open system wasperformed, to assess the possibility for rational utilization of low quality lignite with the simultaneous usage of plastic bags...
Description (srp)
U doktorskoj disertaciji je urađeno detaljno ispitivanje pirolize uzoraka preekstrahovanihlitotipova lignita, polietilena visoke gustine (eng. High Density Polyethylene, HDPE) i kopirolizenjihove smeše u otvorenom sistemu, kao moguće metode za racinalnu primenu niskokvalietnog lignita uz istovremenu upotrebuplastičnih kesa...
Description (srp)
Hemija - Primenjena hemija / Chemistry - Applied Chemistry Datum odbrane: 04.04.2022.
Rights


This work is licensed under a
CC BY-NC-ND 3.0 AT - Creative Commons Attribution-NonCommercial-NoDerivs 3.0 Austria License.

http://creativecommons.org/licenses/by-nc-nd/3.0/at/legalcode


Subject
OSNO - Opšta sistematizacija naučnih oblasti, Eksperimentalna hemija. Laboratorijska hemija

matrix, xylite-rich and mineral-rich lignite lithotype; high density polyethylene; open system pyrolysis; liquid, solid and gaseous pyrolysis products; synergetic effect