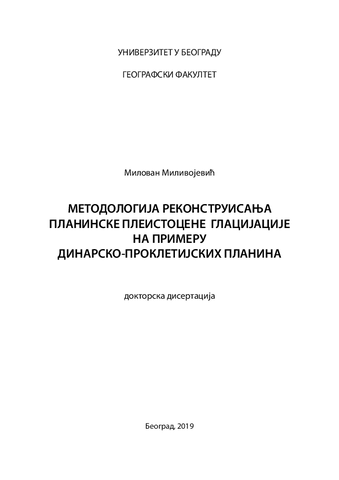 Title (srp)
Методологија реконструисања планинске плеистоцене глацијације на примеру Динарско-проклетијских планина: докторска дисертација
Author
Milivojević, Milovan, 1971-, 6306663

Contributor
Đurović, Predrag, 1962-, 13522535
Petrović, Aleksandar S., 1974-, 7741799
Gaudényi, Tivadar, 1975-, 2804839

Description (srp)
Највиши делови Динарско-проклетијских планина су током плеистоцена били захваћени глацијалним процесом и формирањем долинских ледника. Њихови морфолошки трагови су и данас очувани и јасно изражени на највишим планинама Балканског полуоства...
Description (srp)
географија-физичка географиja/geography-physical geography Datum odbrane: 12.12.2019.
Description (eng)
During the Pleistocene, the highest parts of the Dinaric-Prokletije Mountains were subject to glaciation process and the formation of valley-type glaciers. Their morphological traces are still preserved and clearly observable on the highest mountains of the Balkan Peninsula...
Rights
© All rights reserved


Subject
Pleistocene glaciation, recent glaciation, morphometric analysis, glaciationreconstruction methodology, Dinaric-Prokletije Mountains

OSNO - Opšta sistematizacija nau?nih oblasti -- Geografija (13) -- Opšta geografija (1308)

OSNO - Opšta sistematizacija nau?nih oblasti -- Geologija (26) -- Geomorfologija (2611)